Lockdown and Beyond: How to help further protect yourself, colleagues, patients and carers.
April 15 2020 | News
Introducing Sterilair PRO – the NEW Air Biological Treatment System. Exclusive to Ai Healthcare Engineering by Tecno-Gaz.
Sterilair PRO is the NEW air biological treatment system from Tecno-Gaz that drastically reduce bacteria and virus, thus eliminating all the microorganisms, including the spores.  The air is driven into the system's internal chamber, where irradiation eliminates the microbial load in the air. The Sterilair PRO can treat 120 m³ air/hour, with bacterial reduction of 90% within 3 hours of continuous use. This device can operate continuously even in the presence of people and ensures maximum protection for the operator.  It is simple, quiet and ergonomic. The unit comes as free standing or wall mounted with a 12 month guarantee.
An innovative and affordable technology to help protect every indoor environment from the transmission of airborne bacterial and viral infections including but not limited to: GP Surgeries, Care Homes, Dental Practices, Veterinary Practices, Offices, Military Housing, Classrooms etc.
£1,720.00 + VAT per unit including delivery to Mainland UK and 12 month warranty. Current lead-time is 25 days from order confirmation and deposit received.
Special Introductory Offer – Quote: BlogApr20 for an additional 5% off.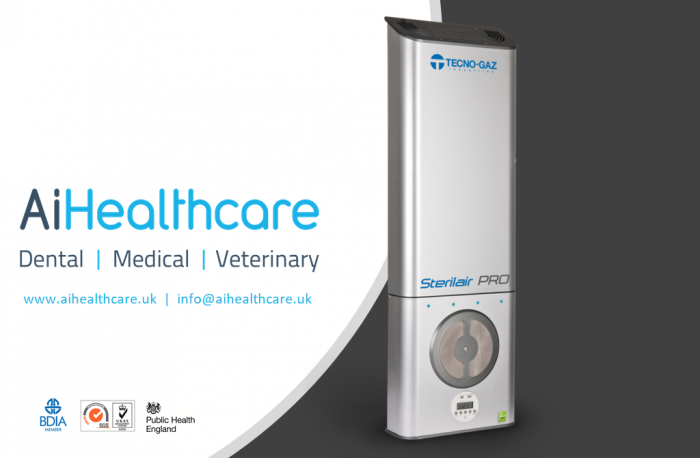 Get in Touch
Would you like more information on Ai Healthcare? Fill out the form below or give us a call on
+44 (0) 330 223 4350